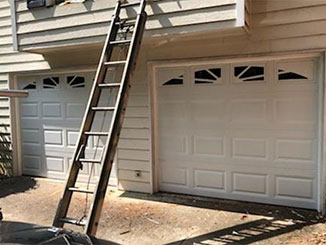 Your garage door is a complex system, comprised of both mechanical and electrical components. Therefore, it can suffer from a wide and diverse range of issues as time goes on, and will need to be maintained in order to live up to its full potential. Its automation means that the features which ensures your safety must also be checked in order to ensure that they're working correctly.
Speaking Of Safety
The opener is the device that allows your garage door to operate automatically, which is why it is equipped with safety sensors that prevent it from hitting people or objects. We'll make sure the photo eyes are in fact aligned correctly and that the door does reverse when something gets in its way. This safety feature is incredibly important, which is why its functionality must be checked on a regular basis.
Spring and Cable Maintenance
The opener doesn't bear the weight of your door by itself, of course. That's what the springs and the cables are for. These components are the ones that effectively pull and lower the panels, and therefore they experience more wear and tear than other parts, and must be checked to make sure they're still working reliably and that their condition hasn't worsened past the point of safe use. We'll adjust them as needed to prevent them from straining needlessly. Spring adjustment, in particular, is very important, as it will keep your door form becoming unbalanced.
Examining the Hardware Parts
Of course, we won't call an appointment done until we inspect the condition of the panels and the tracks and repair any minor damages we found. We'll also lubricate the rollers to keep the movement of the door smooth and silent and reduce the likelihood of a problem related to these components.
Call Us Today
Whether you want to join our maintenance service or you require emergency repairs and need us to respond with urgency, we'll be quick to assist you. Our experts at Garage Door Repair Willowbrook are always ready to help local homeowners with a wide range of issues.
Looking for more? We also offer:

Overhead Door Repair & Installation

Commercial Garage Door Replacement

Galvanized Torsion Spring Installation

Garage Door Troubleshooting Services